Wedding Stamps: The best guide to buying stamps for wedding invitations
2023-08-30
Besides USPS Heart Stamps, Are USPS Flower Stamps Good For Wedding Invitations?
On the official website of the USPS, wedding stamps and love stamps belong to the same theme category. In other words,
USPS Love Stamps
are the same as
USPS Wedding Stamps
. If you can not make personalized wedding stamps, it is also a good choice to choose some USPS Love Stamps that can be called artwork as your own wedding stamps.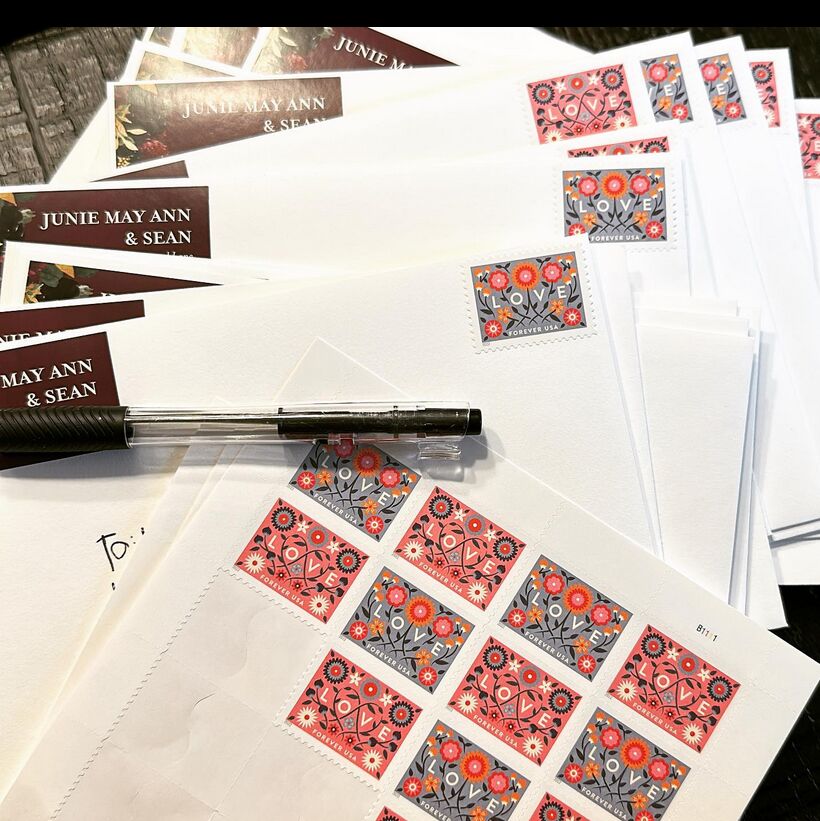 2022 USPS Forever Stamps Suitable as Wedding Stamps
Each year before Valentine's Day, the USPS issues a series of love stamps. Therefore, this stamp is also called USPS Valentine Stamps. The 2022 Love Stamps feature flower blossoms in two designs. Since the 2022 Love Stamps are issued as definitive stamps on the wedding theme, they never expire, regardless of changes in postage rates. Therefore, they are a great choice for wedding invitations, reply cards, thank you notes, bridal shower invitations, and response cards.
You may think that this stamp, despite having the four letters LOVE on it, is anything but an ideal wedding stamp. It is more of a childish game than an expression of affection between lovers and shows that this envelope is a wedding invitation and not a love letter from someone else.
The USPS currently offers 1st class 1 oz Tulips Forever Stamps and 2 oz Sunflower Bouquet Forever Stamps in 2022 that is also suitable for your wedding themes.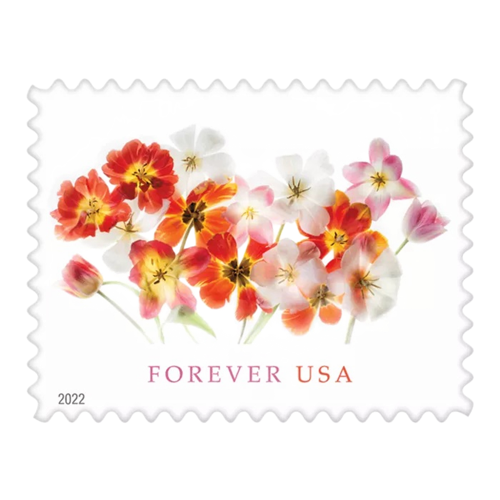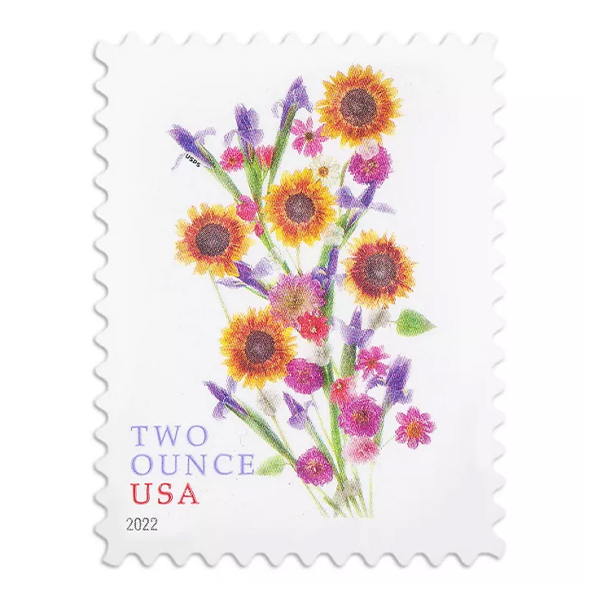 Do Forever stamps work for wedding invitations?
First, let us get to know the USPS Forever Stamp. According to the USPS, Forever Stamps are non-denominational First Class postage, meaning they can be used to mail First Class letters regardless of the postal rate. They are ideal for mailing regular-size letters weighing one ounce. Some of the Love Forever stamps that were issued earlier can also be one of your wedding stamps. Finally, the first Love Forever stamp, Garden of Love, was issued in 2011.
If you look back at the Love Forever stamps of the past three years, the Hearts blossom love forever stamps of 2019, the Made of Hearts love forever stamps of 2020, and the Love 2021 forever stamps, whether it's the design pattern or the overall tone, it's full of love, and it makes people feel warm and happy.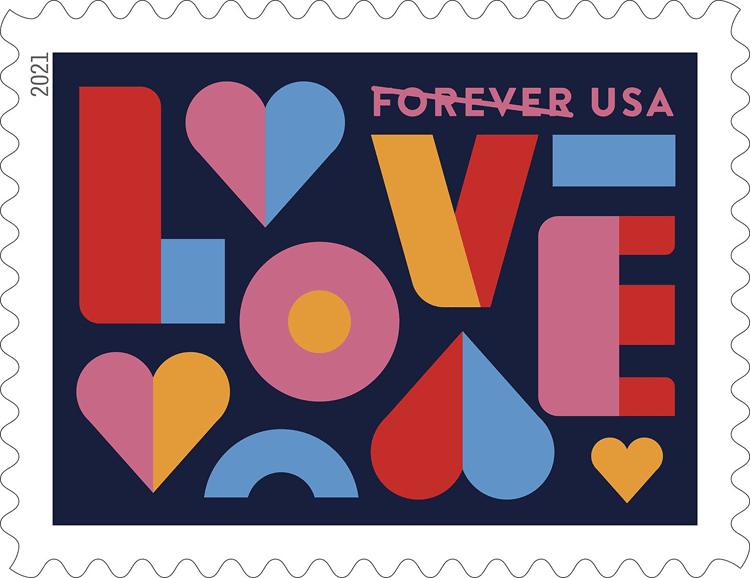 Besides USPS Heart Stamps, Are USPS Flower Stamps Good For Wedding Invitations?
The answer is yes! As we mentioned earlier, some stamps with popular wedding bouquets as design material, such as the Tulips Forever Stamps and the Sunflower Bouquet Forever Stamps can be considered good wedding stamps.
The rose stamp is undeniable. Like the Contemporary Boutonniere Forever Stamps, released in 2020, they are popular wedding stamps. They feature a photo of an arrangement of miniature burgundy orchids, which are among the most popular wedding flowers, a succulent and a pale green hydrangea with a ring of colorful lilies, making the stamps easy to incorporate into wedding invitations of any style.
It's worth noting that the USPS Boutonniere Stamps also have a more eye-catching existence in the USPS's wedding series. To complete this special occasion, the Celebration Corsage, and Celebration Boutonniere Forever stamps are beautiful and perfect for your wedding. April 2, 2020, Garden Corsage, a 2-ounce stamp, and the two 2017 floral Celebration stamps are also good for your special moment.
After reading the article, you may have doubts because the denominations of the stamps are different. How many denominations should I choose for my wedding invitation?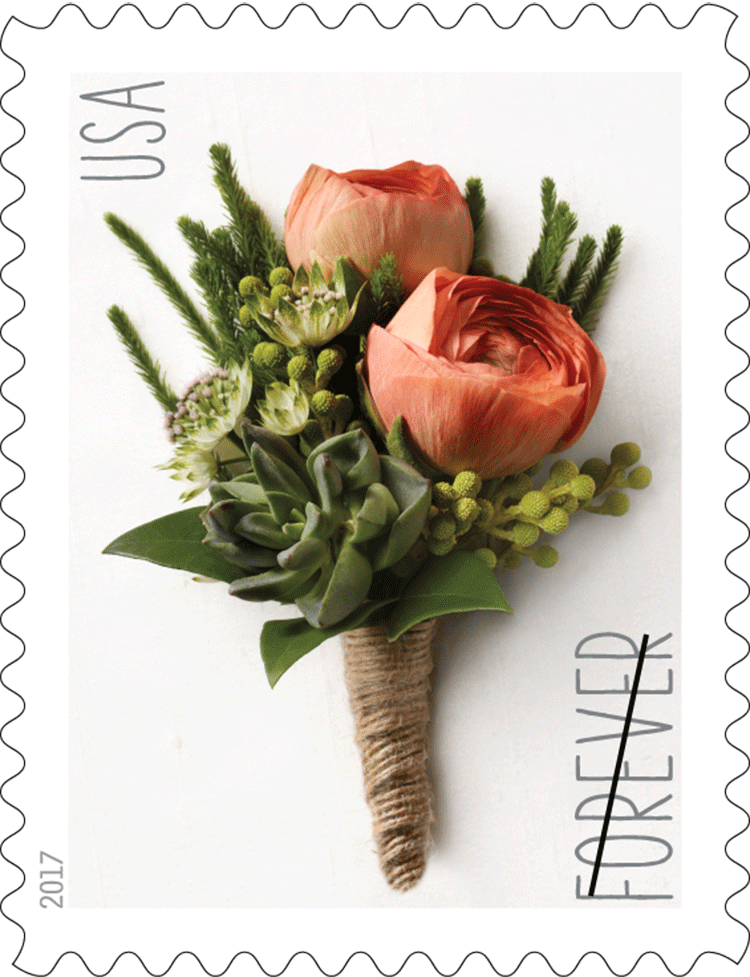 How do I figure out how many stamps I need?
The required postage value for a letter is constantly changing, but weight, shape and thickness, and Machinability are always the most important factors contributing to the required postage value for a letter.Before you buy wedding stamps online, you can first check the 2022 USPS postage rates.
| | |
| --- | --- |
| Type/Weight | Rate |
| Postcards | $0.44 |
| Letters | |
| 1st class, 1 ozForever Stamps | $0.60 |
| 1st class, 1 oz – odd size* | $0.99 |
| 1st class, 2 oz | $0.84 |
| 1st class, 2 oz – odd size* | $1.23 |
| 1st class, 3 oz | $1.08 |
| 1st class, 3 oz – odd size* | $1.47 |
| 1st class, 3.5 oz | $1.32 |
| 1st class large envelope, 1 oz | $1.20 |
| 1st class large envelope, 2 oz | $1.44 |
| 1st class large envelope, 3 oz | $1.68 |
| 1st class large envelope, 4 oz | $1.92 |
| 1st class large envelope, 5 oz | $2.16 |
| 1st class large envelope, 6 oz | $2.40 |
If you want to send a letter weighing 1 ounce to the U.S., you only need to prepare 1 Domestic Forever Stamp to determine the current face value of the stamps. For a 2-ounce letter, you will need 1 Domestic Forever Stamp and an additional 24-cent ounce stamp. If you want to mail a 2-ounce letter in 1st class (common for larger/heavier wedding invitations), you will need a current $0.84 two-ounce stamp.Always include a RSVP card, self-addressed stamped envelope, you really need to weigh the wedding invitation properly and purchase a set of stamps. Calculating the postage is a tedious task. You need to make sure that your beautiful wedding invitations arrive in your guests' mailboxes in pristine condition without rudely asking your guests to open their wallets.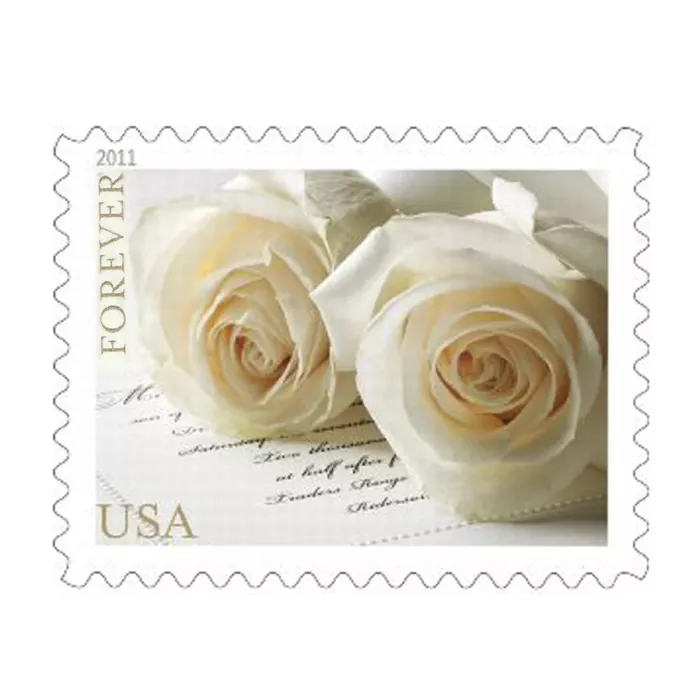 Where to Purchase Stamps?
The United States Postal Service
Whether on the official USPS website or at your local post office, it's the most reliable and affordable way to buy stamps. Search "love/wedding" on usps.com, choose your favorite from the list of available items, and place your order. If you are planning a wedding in a year, order a stamp catalog for your wedding year to see what options will be available in the future. Make sure the stamp you want to buy leaves enough time (at least three months) between when you send out the invitation and the date of your ceremony.
Amazon/ eBay
You can find many resources for retirement stamps on Amazon. But the price can be very high. eBay has a separate section for stamps. If you know the Scott number for the stamp you want, you can easily buy it on eBay. But one is expensive to ship and one takes longer to deliver.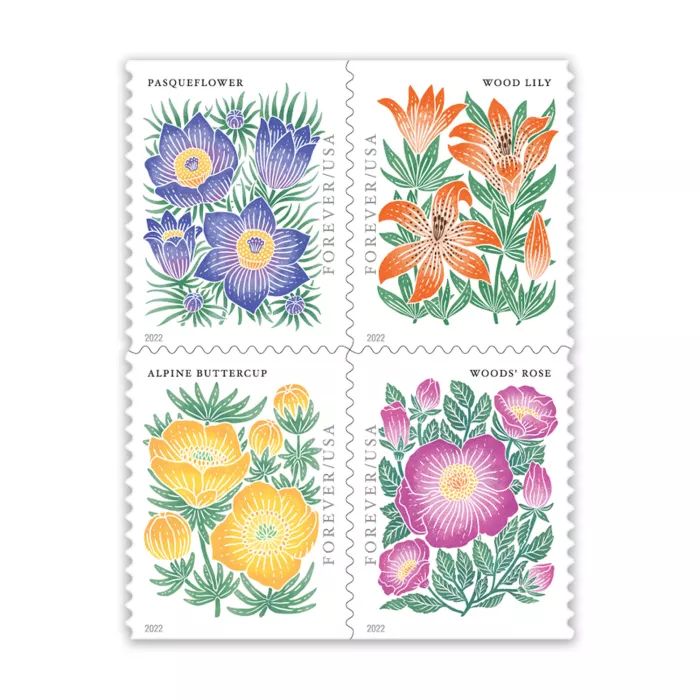 Dedicated stamp websites
There are many independent, high-quality retailers like
Stamp Shop
(stampshop.shop),where you'll find curated offerings by year, themes like fruit and food, love, plants and nature, and even celebrities. With free shipping on all orders and frequent special offers, it's a cost-effective option for those of us who need to buy a lot of stamps.